In Brief The backlash Google faces over ousting two female co-lead researchers at its Ethical AI unit has continued as another of their peers turned away Mountain View's money.
Luke Stark, an assistant professor at Western University in Ontario, Canada turned down a $60,000 academic grant awarded by Google "in solidarity with Drs. Timnit Gebru and Margaret Mitchell, [and] their teammates," CNN first reported.
Stark sent an email declining the grant earlier this month, and joins other academics turning their noses up at the Chocolate Factory. Two researchers similarly recently declined offers to participate in conferences organised by the the ad search giant.
Stark tweeted his response to Google, and said he was "troubled" over Google turning a blind eye to the harassment Gebru and Mitchell face online. You can read his full email below.
Last week I found out I'd been selected for a Google Research Scholar award. Today I declined it. pic.twitter.com/7LDmGKlwy8

— Luke Stark (@luke_stark) March 19, 2021
Consent to being surveilled or risk getting fired, says Amazon
Remember the AI cameras Amazon said it was going to install in its delivery vans to, erm, monitor their driving behaviour? The company is now deploying them and has asked tens of thousands of its employees to consent to being biometrically surveilled.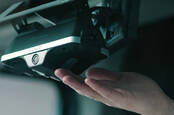 Amazon deploys AI cameras inside delivery vans, misspells 'surveillance' as 'safety' in reason why
The e-commerce giant, however, isn't really giving them much of a choice. They have to agree or they can't drive the vans at all. In short, they have to suck it up or they lose their jobs. Referring to its AI-powered cameras, Amazon said: "This technology may create Biometric Information, and collect, store, and use Biometric Information from such photographs," Vice reported.
The drivers also have to agree to Amazon potentially storing the data for up to 30 days after it was collected. Some have refused and given up their jobs. The cameras developed by Netradyne are running machine learning software to detect 16 different types of behaviour, including everything from failing to brake at a stop sign, or speeding, to not wearing a seat belt or if the camera is obstructed.
Military contractor warns US needs to invest more in AI
The US needs to invest in new AI technologies that can help prevent the risk of satellite and spacecraft collisions as low-Earth orbit becomes more cluttered, and which will also help defend vehicles from getting attacked in space.
That's according to Chris Bogdan, the former head of the F-35 program and a senior vice president in Booz Allen Hamilton's aerospace business, and Saurin Shah, an AI leader in the firm's national security business, in an op-ed on SpaceNews. Booz Allen Hamilton is a top IT consultant known for contracting with the US government.
Bodgan and Shah outlined how AI can enhance national security and protect its assets out in space as the technology continues to advance. They imagine systems capable of autonomously tracking satellites to calculate the risk of collisions between satellites.
Such a system would also generate a list of possible actions to take, including specific maneuvers that a human operator could then pick. That same technology can also apply to combat as machines are faster at analysing data and sifting through solutions than humans, they argued.
"AI solutions offer a transformative opportunity for protecting, improving, and enhancing space missions and helping the United States maintain space dominance," they said.
Apple invests the most in AI startups compared to other Big Tech corps
The iGiant has snapped up the highest number of machine learning-related companies from 2016 to 2020, according to MacRumours.
The exact number is difficult to determine since Apple doesn't make all its acquisition data public. But estimates show that it's higher than other tech companies, including Google, Microsoft, and Facebook.
Interestingly, Accenture, the massive consulting conglomerate, came in second. ®